HORSE RACING AND BRITISH SOCIETY IN THE LONG EIGHTEENTH CENTURY
Published 2018 by Boydell. A finalist in the British Society for Sports History book award in 2019.
https://boydellandbrewer.com/horse-racing-and-british-society-in-the-long-eighteenth-century-hb.html
'For long we have needed a modern and fully researched study of eighteenth-century horse-racing. Mike Huggins' new history has come up trumps. Scholarly but also accessible, it meets the needs of both an academic and lay audience. Rich in detail, drawing upon a wide range of original sources, it explores all aspects of the sport, from its social and political context, to the insider elements of breeders, race horse owners and professionals. All historians of British sport and the eighteenth century, and all those interested in the emergence of the modern turf will want to read this enjoyable and rewarding book.'
Professor Peter Borsay, University of Wales, author of A History of Leisure
'Mike Huggins has done a prodigious amount of research into primary and secondary sources and has used the research to produce a major work of sports history that is really much more than sports history. His study of horse racing is actually a political, economic, social, and cultural interpretation of 18th-century Britain as seen through the prism of its most important sport. He has done a beautiful job of organizing a vast amount of material into a coherent and continually interesting narrative'.
Professor Allen Guttmann, leading American historian of sport
'Mike Huggins has written numerous books on British sport but this is surely his best'. Richard Holt, leading British sport historian

This is his best book yet. It is unique in that it simultaneously contributes to two important areas of historical study. It revises and builds on the existing stock of knowledge to argue that horse-racing was the first proto-modern British sport at a time when leisure was beginning to be seriously commercialized and thus contributes to the ongoing debate on the emergence of modern sport across Europe. Second he explores cultural history by examining the relationship of this particular sport, clearly the national one at the time, with British society of all ranks. Wray Vamplew, leading economic historian of sport
'impeccably researched as one would expect of an award-winning author who is a professor of cultural history. The bibliography alone takes up 22 pages…an authoritative tome full of information and insight into racing's rich history.'
John Randell, Racing Post 3 November 2018
'Triumphantly, the book achieves two goals that are rarely achieved in tandem: there is a totally convincing generalised geographical, historical, national and social narrative; this readable broad picture narrative is complemented by a terrific wealth of local, particular, nitty-gritty detail. This has been achieved largely because the prose is nearly always very clear, readable and bereft of jargon and the illustrations and tables are instructive; but it has also been achieved because Huggins is perfectly up-to-date with both mainstream and obscure contemporary scholarship and because the range of primary sources cited is sweeping … [It] will become a classic, seminal study of a crucial early modern activity.'  Kevin Ornellas, Rural History
'a work which will rank as the standard reference for generations to come' Tony Morris, racing journalist
Horse racing was the first and longest-lasting of Britain's national sports. This book explores the cultural world of racing and its relationship with British society in the long eighteenth century. It examines how and why race meetings changed from a marginal and informal interest for some of the elite to become the most significant leisure event of the summer season. Going beyond sports history, the book firmly places racing in its cultural, social, political and economic context.
Racing's development was linked to the growth of commercialized leisure in the eighteenth century, a product of rising wealth among the middling group; changes in transport; the expansion of the newspaper press; and the new democratic and individualistic spirit of the age, especially the more flexible social codes of the late Georgian and Regency eras.
In this book, horse racing emerges as the first 'proto-modern' sport, with links with the widespread popularity of gaming and betting which forced ever-increasing codification, regulation and event organization. Racing also gave expression to highly nuanced concepts of local, regional, national, class, gender (primarily male) and political identities.
Drawing on the fields of social, cultural and sports history and utilizing many hitherto ignored or underexploited sources, the book revises current histories of eighteenth-century leisure and sport, showing how horse racing links to debates about commercialization, consumer behaviour, the 'urban renaissance' and human-horse relationships. It also sheds new light not only on racehorse ownership, but also on the hitherto hidden world of racing's key professionals: jockeys, trainers, bloodstock breeders, stud grooms and stable hands.
Vice and the Victorians
By: Mike Huggins
Published: 17-12-2015
Format: EPUB eBook. Paperback. Hardback
Edition: 1st
ISBN: 9781472525567
Imprint: Bloomsbury Academic
RRP: £19.99
About Vice and the Victorians
www.bloomsbury.com/uk/vice-and-the-victorians-9781472525567/
Vice and the Victorians explores the ways the Victorian world gave meanings to the word 'vice', and the role this complex notion played in shaping society. Mike Huggins provides a richer and more nuanced understanding of a term that, despite its vital importance to the Victorians, has thus far lacked a clear definition.
Each chapter explores a different facet of vice. Firstly, the book seeks to define exactly what vice meant to the Victorians, exploring how the language of vice was used as a tool to beat down opposition and dissent. It considers the spatial dimension of vice in the public and private spheres, before moving on to look at specific vices: the unholy trinity of drink, sex and gambling. Finally, it shifts from vice to virtue and the efforts of moral reformers, and reassesses the relationship between vice and respectability in Victorian life.
In his lively and engaging discussion, Mike Huggins draws on a range of theory and exploits a wide variety of texts and images from the periodical press, parliamentary reports and Acts, novels, obscene publications, paintings and posters, newspapers, sermons, pamphlets and investigative works. This will be an illuminating text for undergraduates studying Victorian Britain as well as anyone wishing to gain a more nuanced understanding of Victorian society.
Recommendations
'Huggins has written a lively and well-researched study of vice during the reign of one of our noblest queens. Exploring the darkest corners of the nineteenth-century city, and taking in drunkenness, gambling, pornography and prostitution, Huggins shows that Victorian Values were not always as Margaret Thatcher imagined them to be. Although pressure against being led into temptation came from churches, charities, educators, employers, and the forces of law and order, many Victorians struggled with the devil on one shoulder and the angel on the other. Huggins tells his stories of Victorian vice with great skill.'
Mark Clapson, University of Westminster, UK
'This engaging, well-researched survey of many forms of Victorian vice – including gambling, prostitution, drunkenness, and pornography – will appeal to the scholar, the student, and the educated lay reader alike. It draws on a wide range of sources, including periodicals, court cases, and canonical novels, to show that the enjoyment of – or at least exposure to – a variety of vices united all classes in Victorian society. This compelling work brings together the libertine, the occasional gambler, the secret consumer of pornography, the streetwalker, the purity crusader, and the street preacher to remind us of the complexities of Victorian culture. I thoroughly enjoyed reading it.'
Carol Engelhardt Herringer, Wright State University, USA
'A lively and valuable work of both colour and substance, providing a richly detailed cultural cartography of Victorian deviance and twilight pleasures. Mike Huggins' synthesis tops up and illuminates the extensive literature on vice and its challenges with impressive aplomb… A compendious recent treatment.'
'Peter Bailey, University of Manitoba, Canada
'a book that is comprehensive and at the same time highly readable, aimed at an undergraduate audience. His early chapters set out the problems facing any efforts to synthesize an account of Victorian vice from a bewildering range of primary and secondary sources. Issues of class are at the forefront, particularly since vices tended to be the problems of somebody else. Vice and the Victorians adeptly weaves together familiar narratives of proletarian dissipation and aristocratic decadence, as well as problems of middle-class disrepute that surfaced less often than their class counterparts at both ends of the social scale.' Journal of Interdiscipinary History
'Reinvigorates the topic of Victorian vice… The notable strength of Huggins's book is in its detailed knowledge of British social history, which drives his analysis of vice…Huggins's depiction of multifarious, urban Victorian life is as rich and real as a crowd scene painted by William Frith. Victorian Studies
'Reading it is a pure joy…The book is succinctly and effectively written and it manages to knead a potentially unruly topic into a tangible and concise form by focusing on a series of specific subjects: the various spaces connected to vice; the vice of drunkenness; betting and gaming; and various practices connected with sex—from prostitution to pornography'… Huggins's book is a well-written and insightful guide to the Victorian underworld, and its conjoining of the traditional picture of the era as one defined by moralism and respectability with the emerging picture of the period as a more rowdy and subversive time makes it a suitable bridge between two paradigms in Victorian studies English Historical Review
'a good primer for student and undergraduate researchers studying Victorian culture and history. Huggins relies on primary research and his own analysis rather than only secondary sources in his well-written, well-organized book. An introductory piece on vice and the culture surrounding it leads into the many primary sources the author consults. Vice must be examined in the context of the times, and Huggins does an admirable job of painting a cultural picture. He also examines how different classes viewed vice and how each reacted to another. The book's sources are a gold mine for scholars of any tier interested in more information about Victorian-era vices' CHOICE
This is a very accessible book and one which I think should be on the reading list of everyone interested in the period – although the book deals with all the Victorian period so a lot isn't immediately relevant to the 1880s. A highly enjoyable book, warmly recommended.
Ripperologist Magazine
Table Of Contents
Acknowledgements
Introduction
1. The Problem of Vice
2. The Cultural Geography of Vice
3. The Demon Drink
4. The Betting Evil
5. Sexual Vices
6. Fighting the Good Fight
7. Respectability
Epilogue
OTHER BOOKS
The Teesside Seaside Between the Wars (North East England History Institute, 2003) with J. K. Walton.
'very well written and included within its short span a remarkable amount of factual detail and persuasive analysis.' Northern History 2004.
'Part of the excellent series of "Papers in North Eastern History," the book is hugely readable yet immensely scholarly, readily communicating the authors' enthusiasm for and command of their subject…
In summary, this is an excellent treatment of the resorts of North East England and goes some way to creating a detailed picture of the interwar British seaside that will further stimulate the already ongoing dialogues, as well as providing us with a valuable case study of a fascinating and significant region of the UK.' International Journal of Maritime History 2005.
Sport and the English 1918-1939 (Routledge, 2006) with Jack Williams.
View details on Amazon.co.uk
'Mike Huggins and Jack Williams are well-established historians of sport in interwar England and what they say about sport in this book we would expect to be authoritative. In a comparatively small compass they are able to say a lot.' (International Journal of the History of Sport, 2007)
'this book helps fill a major chronological gap . . . Furthermore, for many readers, the book's attractions will derive from the track record of the joint authors, who combine to form a strong sports history team. The book's strength lies in the way in which a wide range of evidence is marshaled to illuminate key discussion points, including middle-class lifestyles; the 'otherness' of the working classes; the social power of men over women; local and national identities; the nature of sporting celebrity; and the growing role of the media in representing sport'. (Sport in History, 2008).
The Victorians and Sport (Hambledon/Continuum, 2004, reprinted 2007)
View on Amazon.co.uk
'written with authority, based on an astonishing volume and variety of source material, and with enthusiasm that can easily infect the reader.' Economic History Review, 2005.
'provides a wider social context into which to fit the tighter, more restricted nineteenth century sport histories… For those just embarking on an investigation into the contextualisation of sport and society, The Victorians and Sport will make for a great start.' The Historian 2007.
'a fluid and erudite survey of the era that offers a growing range of research and knowledge to a broader learned audience', International Journal of the History of Sport 2005.
Flat Racing and British Society 1790-1914: A Social and Economic History. (Frank Cass, 2000). Reprinted by Routledge 2013.
View details on Amazon.co.uk
Awarded the Sports History Book of the Year prize by the North American Society for Sport History in 2000
'Mike Huggins has become a prolific writer on aspects of British popular culture [and these writings have] carved out a niche for him as a distinctive voice, with a particularly telling concern to reassess the nature and varieties of middle class culture . . . this is a very important (and enjoyable) book.' (Journal of Social History, 2001).
'Huggins . . . demonstrates energy, enthusiasm, and historiographical skill in abundance. Equally important is the theoretical insight he brings'. (Albion, 2001).
'a book which should be read by all scholars interested in the history of sport in the nineteenth century.' (Sporting Traditions, 2002).
'builds on established scholarship and points the way towards new areas of research.' (History, 2002).
Horseracing and the British 1919-1939. (Manchester University Press, 2003).
View details on Amazon.co.uk

'his focus upon what he describes as a major British industry . . . offers another dimension to ongoing historiographical controversies about the character of Britain's interwar experience'. History 2005.
'it looks like Mike Huggins has backed another winner', Sport in History 2004
'authoritative and well researched', Economic History Review 2004.
an 'engaging and original book', Northern History 2004
'Disreputable Pleasures: Less Virtuous Victorians at Play'
Mike Huggins and J A Mangan (eds.) (Frank Cass, 2004)
'A welcome exercise in historiographical delinquency, this lively and challenging collection makes an important contribution to the history of leisure and popular culture in Britain.' (Peter Bailey, author of Popular Culture and Performance in the Victorian City)
Kings of The Moor: North Yorkshire Racehorse trainers 1760-1900 (Teesside University 1991).
'Sport and the Upper Classes in Britain, 1450-1950′, Mike Huggins (guest editor) Sport in History (September 2008) View details on Amazon.co.uk
'The Visual in Sport' Mike Huggins and Mike O'Mahony (eds), (Routledge, November 2012). Recommended as
'A genuinely interdisciplinary work that will form the starting point for much new thinking about sport and the visual' (Professor Dave Russell).
'This terrific volume provides even further proof of the explosion of sports studies in recent years. Sport is unimaginable without the visual and the authors here beautifully and intelligently show us why' (Professor Robert Edelman).
'This is a collection that will change the way that many of us see sport' (Professor Mark Dyreson).
'To date, the only rigorous, comprehensive account of sport and the visual'(Jonathan Finn in his edited collection, Sport and Visual Culture).
The essays offer a good mix of sport and art-historical perspectives, and explore a diverse range of images and visual artefacts from across cultures. In this the collection fulfills the editors' major aims: to offer an alternative model of studying sport history, to encourage scholarship in this area and extend awareness or new kinds of primary visual sources…the collection offers a stepping stone for subsequent work…a very welcome one. Sport in History http://www.routledge.com/books/details/9780415585071/
'Sport, Tourism and History', Mike Huggins (guest editor) Journal of Tourism History, September 2013
Match Fixing and Sport: Historical Perspectives Mike Huggins and Rob Hess (eds)  (Routledge 2019) Recommended in 2022 as one of the best five books to show why sports history matters. See
https://shepherd.com/best-books/history-books-to-find-out-why-sport-matters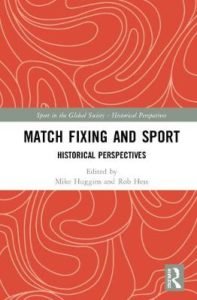 A Cultural History of Sport in the Age of Industry ed. Mike Huggins (Bloomsbury, 2021)
Bloomsbury's A Cultural History of Sport collection was one of the three finalists for the North American Society for Sport History (NASSH) Anthology Prize for 2022.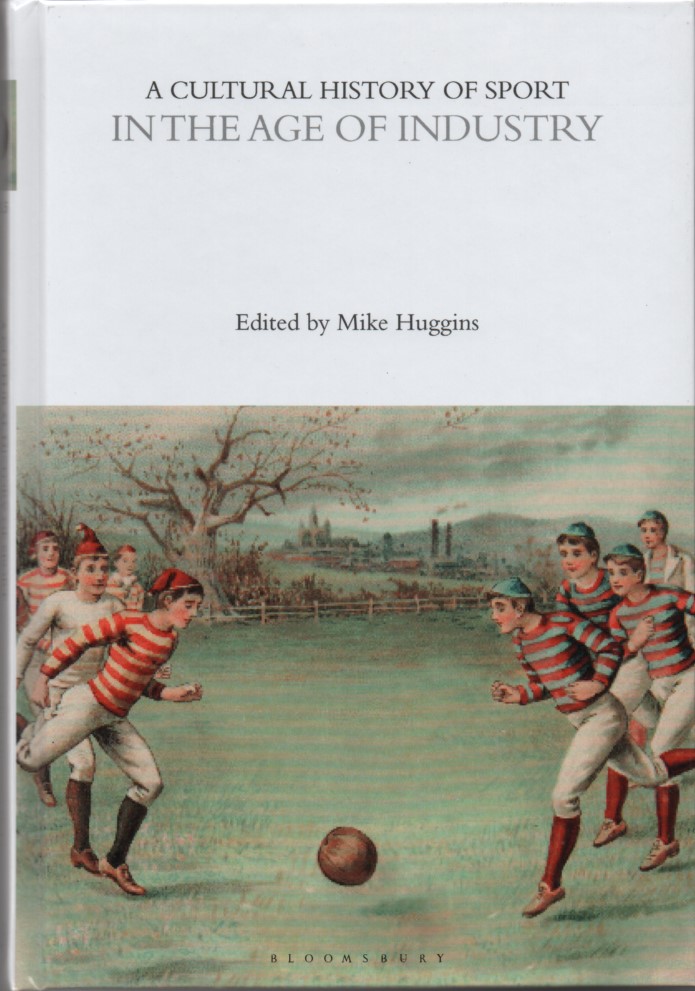 Chapters and Articles: Go to see my published material on British leisure and sport in mainstream historical journals and in specialist publications, and my contributed chapters to a wide range of edited books.