Latest book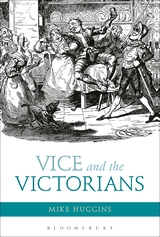 Vice and the Victorians
www.bloomsbury.com/uk/vice-and-the-victorians-9781472525567/

Sports History
ORGANISATIONS  that study sport history
The North American Society for Sport History:
Visit: nassh.org
The European Committee for Sports History (CESH):
Visit: cesh-site.eu
The International Society for the History of Physical Education and Sport:
ishpes.org
H-Net Network on sport, physical education, and physical activity:
H-NET.MSU.EDU
JOURNALS that cover sport history
Soccer History, devoted to the history of football:
soccer-history.co.uk
Sport History Review:
journals.humankinetics.com/about-shr
International Journal of the History of Sport, the leading international journal for sport history:
tandf.co.uk/journals/FHSP
Sport in History, published by Routledge for the British Society for Sport History:
tandf.co.uk/journals/rsih
Journal of Sport History, published in association with NASSH:
journalofsporthistory.org/
HOW TO FIND OUT ABOUT SPORT HISTORY
sprig.org.uk/htfo/htfohistory.html gives guidance about how to find out about the history of sports.
The LA84 Foundation has a digital archive including free back copies of American and British journals and sports magazines, including a huge amount on the history of the Olympics: la84foundation.org/5va/over_frmst.htm
Soccer and Society features work on the history of football alongside articles on sociology and occasionally other disciplines. It is published three times a year and also contains book reviews.
http://www.tandf.co.uk/journals/titles/14660970.asp
The Nazi Olympics, Berlin 1936
www.ushmm.org/
For a challenge to conventional views of soccer see https://touchline-tv.com/
SPORTDiscus is only accessible to institutional subscribers but great on sports and sports medicine: ebscohost.com/academic/sportdiscus-with-full-text
For a sense of the importance of London to the Olympic Games see https://ucalgary.ca/knes/News/brown-history
For horse sports in Britain and USA see: wikis.uit.tufts.edu/confluence/display/JohnASeavernsEquineCollection/Home
For English archive collections to be searched for sporting sources see: nationalarchives.gov.uk/a2a
If you want to recommend other useful sites please send me an email and I will certainly consider them.